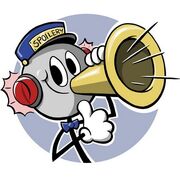 The spoiler horn lets listeners know that the remainder of the podcast will contain spoilers for the media under discussion. Before the spoiler horn sounds, the panelists try their best to keep the discussion spoiler-free. The spoiler horn is not used during
TeeVee
 flashcast episodes since those should be assumed to be spoiler-heavy.
The spoiler horn audio is the "Ferry Fog Horn" stock sound effect from Apple.
The spoiler horn has a Twitter account . 
The spoiler horn has been adapted and used in other podcasts, both within The Incomparable network and beyond.
Conspiracy phaser: Used at the end of Vulcan Hello episodes to mark the beginning of wild speculation.
Spoiler spot/smoiler smot: The end segment of a Reconcilable Differences episode during which spoiler-laden discussions of media occur. Previous topics are not discussed again in the spoiler spot.
Spoiler dong: Used haphazardly to indicate spoilers in Top Four episodes.
Community content is available under
CC-BY-SA
unless otherwise noted.